Yesterday was an exciting day, in the morning an email arrived telling me that this site has achieved an award!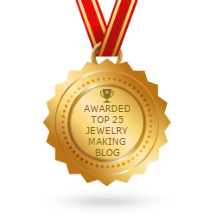 The link will take you to the feedspot.com site who made the award.
I am so thrilled this is a new blog but clearly get is getting some attention so thank you feedspot and thank you to all the lovely people viewing the blog and earning this for me.
Then my lovely friend
Karen Gist
contacted me asking for a bracelet like one in the shop but in copper. Copper is said to help with Arthritis and Karen has some pain from it. Had to order some more jump rings but should be able to get the order out on Monday, super exciting times.
In the mean time I've been playing for fun.
A 3 ring spiral weave each new jump ring is linked to the previous 3. As the chain grows it naturally twists, made with 7mm jump rings this is quite a loose weave which moves as its wearer does.
Persian Weave in contract is a tight weave producing a stiffer chain a more formal feeling bracelet.
Both bracelets are available at my
etsy shop
.